FUTURECOM OFFICIAL SHOW DAILY AND TV LIVE COVERAGE
Futurecom 2017, Latin America's largest annual exhibition and conference for the Telecommunications and IT sector, and TeleSemana.com, the leading B2B information web portal for telecom professionals in Latin America, announce the extension of their partnership signed in 2009 by which TeleSemana.com will be, for the ninth consecutive year, the exclusive producer of this Futurecom Official Show Daily.
The Show Daily is the official channel covering the news and events occurring at Futurecom. Leveraging on Futurecom attendee list in Brazil as well as TeleSemana.com subscriber database in the rest of Latin America, over 80,000 executives -on and offsite- will receive up-to-the minute information about Futurecom strategic debates, presentations and discussions, both in Portuguese and Spanish.
New this year, in addition to the already traditional video panels hosted by TeleSemana.com Editorial Director and Co-Founder, Rafael Junquera, a 2-Hour LIVE daily Coverage will be streamed from the Show Daily Official Studio located in the event show floor. LIVE feed will be broadcasted on screens displayed at key areas within the exhibition floor and replayed throughout the day. LIVE coverage will also be streamed beyond the boundaries of the convention center, reaching TeleSemana.com and Futurecom databases across Brazil and Latin America.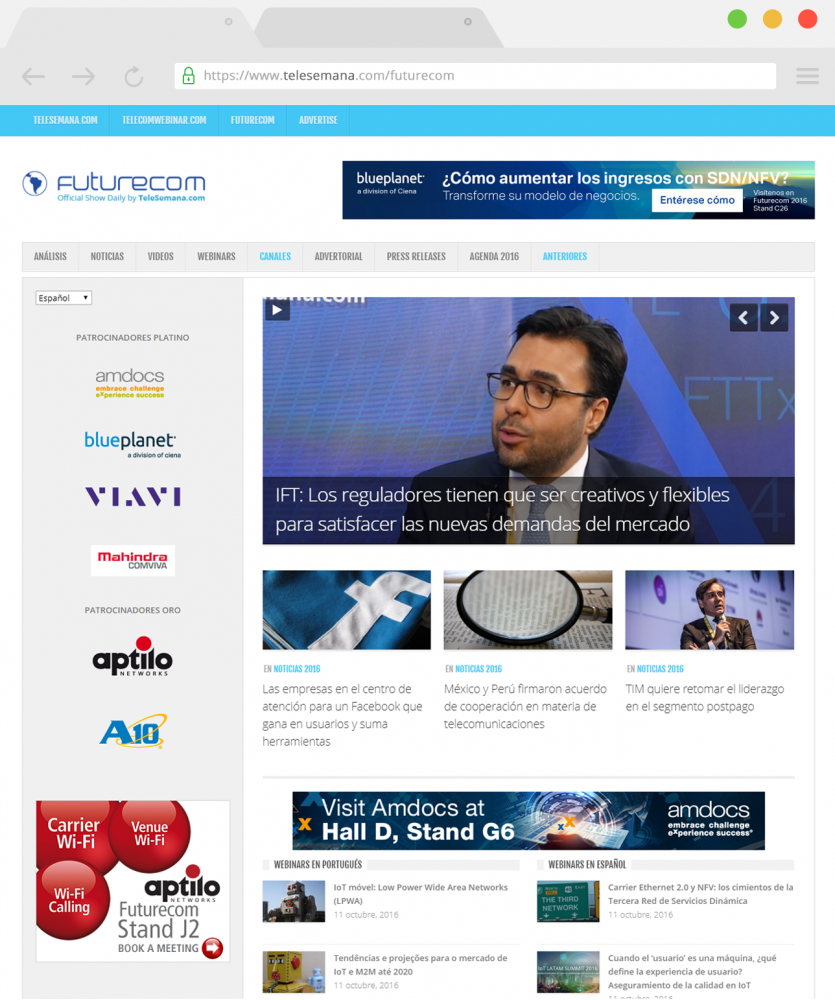 • 2-Hour LIVE streaming including interviews and panel discussions, both editorial and sponsored
• LIVE Coverage streamed as part of the Show Daily Coverage on screens located throughout the exhibition floor and strategic locations
• Video panels with Futurecom 2017 attendees, sponsors and speakers also played on screens
• Interviews to industry personalities prior to the event, published on TeleSemana.com, as well as on 'Futurecom All Year'
• Our editors' opinión feature stories
• Long tail articles from industry analysts, prior and after the event
BRAZIL - 65%
SOUTHERN CONE - 9%
ANDEAN REGION - 7%
MEXICO & CENTRAL AMERICA - 7%
NORTH AMERICA - 6%
OTHER - 6%
'ENGAGE 80,000+ INDUSTRY PROFESSIONALS REGION-WIDE BEFORE, DURING AND AFTER FUTURECOM'
HIGHLIGHTS
• Futurecom Official Flagship Publication reaching 80,000+ Telecom & IT executives
• Largest online distribution in Latin America
• Multilingual (Spanish/Portuguese)
• Onsite/Offsite Distribution
• VP and C-level readership
• Viral promotion through social networks
PLATINUM SPONSORSHIP – $ 5,990
• Logo featured on intro animation
• Commercial spot running on breaks (every 20-minutes)
• 20-Minute LIVE interview
• Banner on Official LIVE Coverage and Show Daily website
• Banner on Daily Newsletters distributed to 80,000+ executives across LATAM (Futurecom, TeleSemana and TelecomWebinar distribution list)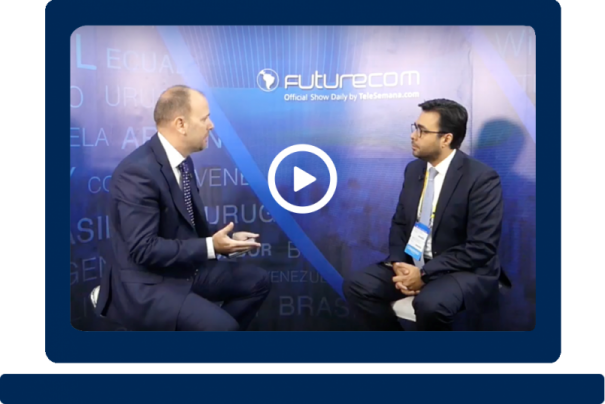 RECORDED SPONSORED INTERVIEW – $ 2,990
• 20-Minute interview recorded during Futurecom
• Interview featured on Official LIVE Coverage and Show Daily website
• Interview featured enhanced on one issue of Official Show Daily Newsletter distributed to 80,000+ executives
BANNER AD PACKAGE – $ 2,990
• Banner on Official LIVE Coverage and Show Daily website
• Banner on Daily Newsletters distributed to Futurecom, TeleSemana and TelecomWebinar distribution list (80,000+ executives)
ADVERTORIAL OR WHITE PAPER OR CORPORATE VIDEO – $ 1,990
• Asset provided by Sponsor
• Asset featured on Official LIVE Coverage and Show Daily website
• Asset featured enhanced on one issue of Official Show Daily Newsletter distributed to 80,000+ executives