This tutorial is intended for those who have never participated in a TeleSemana.com webinar and need some answers to common questions. Also it provides some useful tips as to how to deliver a presentation online where non verbal cues do not exist.
[column size="one-half"]
Let's start first with your PDF or Power Point:
If you are participating in an exclusive webinar where you are the only sponsor, the size of you PDF or PPT is up to you
If you are participating in a webinar series, where multiple companies participate, then your PPT needs to have the 16:9 ratio
If you are submitting a PPT, remember that animations are not allowed. If you want them you need to break them in different slides (PDFs do not have animations anyways)
Make sure you let us know if your PDF or PPT can be downloaded by our webinar audience. You can also ask our audience to ask for it if you want to better track who wants a copy
How does our platform look like and how it works
We have develop our own platform to deliver online presentations. After 10 years producing highly successful webinars, we decided that our platform should be first and foremost easy to use and accesible to all our database, avoiding being filtered by firewalls, as it is the case when some third party webinar platforms are used. Below you will see the basic structure of our webinar platform: and audio player (live and on-demand modes) and a slider.
Follows a picture of how our platform looks like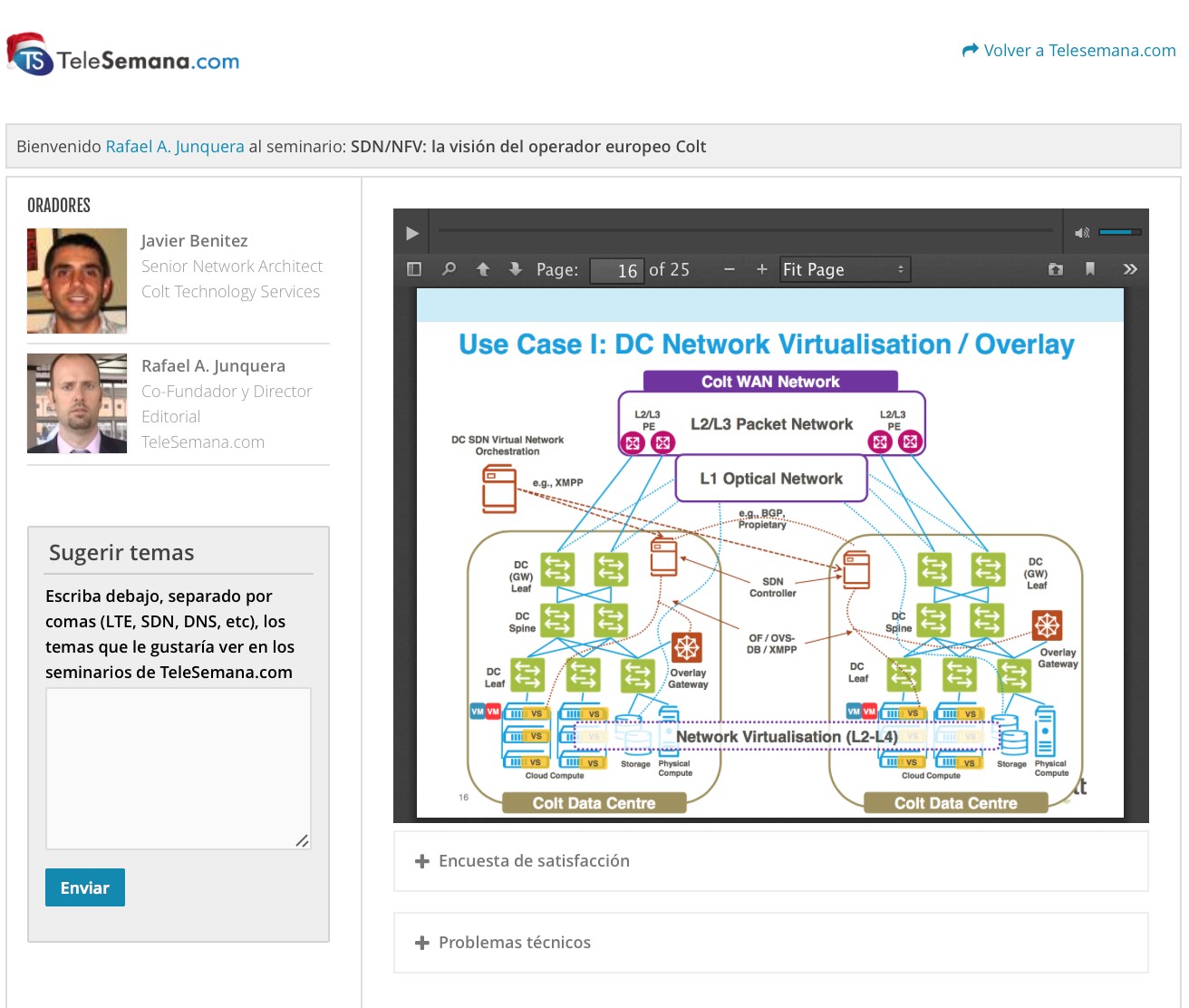 [hr]
[/column]
[column size="one-half" last="true"]
What it means to present at a TeleSemana webinar as a speaker
Every time a new person presents in one of TeleSemana's webinar a user name is created for him/her and for his/her company. Essentially, both the speaker and the company become part of our list of subscribers but with special roles, to avoid being treated as a regular subscriber. The speaker can then access the platform and his/her contact remain in TeleSemana for future reference. Every presenter then develops a unique archive of webinars that people can browse.
How do speakers respond to questions
All questions are received via the commenting system users see below the slides. Some questions are responded during the live session while the rest are responded in writing either accessing the webinar platform or privately via email.
Every time the user asks a question, our speakers receive an email with the question, the link to the platform and the email address of the person asking the question. Speakers may choose to respond openly in the platform for all the audience to see (recommended as it will foster further interaction with other users that had remainder quiet), or can choose to respond privately via email.
How much time do I have?
If you are participating on a TeleSemana Webinar Exclusive, you have between 35 and 45 minutes, plus 15 minutes for Q&A. We recommend having a presentation that is no longer than 25-30 slides
If you are participating on a TeleSemana Webinar Series, you have 15 minutes plus 15 minutes of Q&A share among all speakers (up to three). We recommend having a presentation that is no longer than 15 slides
What language shall I present in? Spanish and English welcome
TeleSemana Webinars are produced to communicate new developments to Spanish speaking Latin America, which means the mother tongue of our audience is Spanish. We always recommend having a Spanish speaker executive present at our sessions. That being said, content and expertise should have preference over language. Our webinar audience tend to be people with some level of hierarchy, thus they are capable of following a webinar in English. We have been gathering information via our webinar feedback form and only about 9% who respond to the form have stated that English presents a barrier when participating at a webinar.
[/column]
If you still have questions do not hesitate to contact us via email by reaching your contact person within TeleSemana.com or by using the commenting system you will find below this text.