Reach Latin American Operators from your Stand at Mobile World Congress 2015
27
Mobile World Congress 2015 is a few weeks away. All companies are already preparing their marketing arsenal to stay at the forefront of the news headlines. Everyone wants to get noticed and hundreds of marketing professional are competing for the same objetives: to get their company's messages across in and outside the event venue while compiling as many qualified leads as possible. TeleSemana.com is here to help offering a unique opportunity to get all those objetives with Latin American telecom operators. Curious? Keep reading.
Video Webinar from MWC2015
Reach your prospects in LATAM while your competitors are too busy with MWC2015
Present your solutions to the Latin American audience from your stand at MWC2015
Multi cam set up to record your presentation from multiple angles
Provide the audience quality content but also a unique perspective of your participation at MWC2015
Our editorial director participates with your company's speaker to create a more dynamic and interactive discussion
Lead capture: Get the database of those viewing your Video Webinar presentation from MWC2015
Keep collecting leads after MWC2015 is over as your Video Webinar remains available through TeleSemana.com website and its dedicated channel for the event
Extend the use your video webinar. We can provide with a secure embed so you can post it on your website
Case Study: JDSU Video Webinar at MWC2014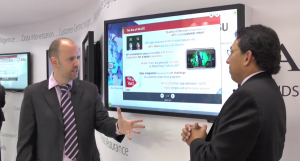 JSDU was our first client to host a Video Webinar during Mobile World Congress 2014 reaching several operators with their presentation. It turned out to be our second most shared Webinar in social networks out 33 we produced in 2014.